NFL quarterback rankings: The best to worst starting QBs for the 2022-2023 season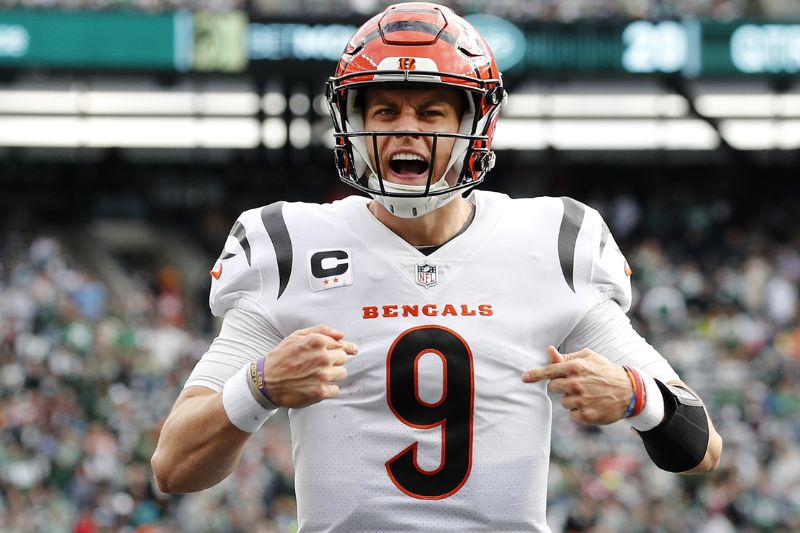 NFL ranked the team's quarterback list according to their past performance with their present and past team. NFL Week 18 continues where KC Chiefs QB Patrick Mahomes leads the No. 1 position and starting quarterback in the ongoing 2022-2023 NFL season, on the other hand, Zach Wilson starts the season with the Jets as the worst quarterback with the team so far.
We have regularly updated after each game, last updated on 18 January 2023.
| | | | | | | | | | | | | |
| --- | --- | --- | --- | --- | --- | --- | --- | --- | --- | --- | --- | --- |
| Rank | QBs | Team | Year | Game | PCT | Pass Yds | YPA | Pass TD | INT | Rush Yds | Rush TD | Fumbles |
| 1 | Patrick Mahomes | Chiefs | 6 | 17 | 67.1 | 5,250 | 8.1 | 41 | 12 | 358 | 4 | 5 |
| 2 | Jalen Hurts | Eagles | 3 | 15 | 66.5 | 3,701 | 8.0 | 22 | 6 | 760 | 13 | 9 |
| 3 | Joe Burrow | Bengals | 3 | 16 | 68.3 | 4,475 | 7.4 | 35 | 12 | 257 | 5 | 6 |
| 4 | Josh Allen | Bills | 5 | 16 | 63.3 | 4,283 | 7.6 | 35 | 14 | 762 | 7 | 13 |
| 5 | Justin Herbert | Chargers | 3 | 17 | 68.2 | 4,739 | 6.8 | 25 | 10 | 147 | 0 | 8 |
| 6 | Trevor Lawrence | Jaguars | 2 | 17 | 66.3 | 4,113 | 7.0 | 25 | 8 | 291 | 5 | 12 |
| 7 | Tua Tagovailoa | Dolphins | 3 | 13 | 64.8 | 3,548 | 8.9 | 25 | 8 | 70 | 0 | 6 |
| 8 | Jared Goff | Lions | 7 | 17 | 65.1 | 4,438 | 7.6 | 29 | 7 | 73 | 0 | 7 |
| 9 | Geno Smith | Seahawks | 10 | 17 | 69.8 | 4,282 | 7.5 | 30 | 11 | 366 | 1 | 8 |
| 10 | Dak Prescott | Cowboys | 7 | 12 | 66.2 | 2,860 | 7.3 | 23 | 15 | 182 | 1 | 4 |
| 11 | Tom Brady | Buccaneers | 23 | 17 | 66.8 | 4,694 | 6.4 | 25 | 9 | -1 | 1 | 5 |
| 12 | Lamar Jackson | Ravens | 5 | 12 | 62.3 | 2,242 | 6.9 | 17 | 7 | 764 | 3 | 5 |
| 13 | Justin Fields | Bears | 2 | 15 | 60.4 | 2,242 | 7.1 | 17 | 11 | 1,143 | 8 | 16 |
| 14 | Aaron Rodgers | Packers | 18 | 17 | 64.6 | 3,695 | 6.8 | 26 | 12 | 94 | 1 | 8 |
| 15 | Brock Purdy | 49ers | Rookie | 9 | 67.1 | 1,374 | 8.1 | 13 | 4 | 13 | 1 | 0 |
| 16 | Kyler Murray | Cardinals | 4 | 11 | 66.4 | 2,368 | 6.1 | 14 | 7 | 418 | 3 | 8 |
| 17 | Kirk Cousins | Vikings | 11 | 17 | 65.9 | 4,547 | 7.1 | 29 | 14 | 97 | 2 | 7 |
| 18 | Daniel Jones | Giants | 4 | 16 | 67.2 | 3,205 | 6.8 | 15 | 5 | 708 | 7 | 6 |
| 19 | Ryan Tannehill | Titans | 11 | 12 | 65.2 | 2,536 | 7.8 | 13 | 6 | 98 | 2 | 3 |
| 20 | Kenny Pickett | Steelers | Rookie | 13 | 63.0 | 2,404 | 6.2 | 7 | 9 | 237 | 3 | 4 |
| 21 | Derek Carr | Raiders | 9 | 15 | 60.8 | 3,522 | 7.0 | 24 | 14 | 102 | 0 | 4 |
| 22 | Andy Dalton | Saints | 12 | 14 | 66.7 | 2,871 | 7.6 | 18 | 9 | 54 | 0 | 5 |
| 23 | Matthew Stafford | Rams | 14 | 9 | 68.0 | 2,087 | 6.9 | 10 | 8 | 9 | 1 | 5 |
| 24 | Sam Darnold | Panthers | 5 | 6 | 58.6 | 1,143 | 8.2 | 7 | 3 | 106 | 2 | 6 |
| 25 | Marcus Mariota | Falcons | 8 | 13 | 61.3 | 2,219 | 7.4 | 15 | 9 | 438 | 4 | 8 |
| 26 | Mac Jones | Patriots | 2 | 14 | 65.2 | 2,997 | 6.8 | 14 | 11 | 102 | 1 | 5 |
| 27 | Russell Wilson | Broncos | 11 | 15 | 60.5 | 3,524 | 7.3 | 16 | 11 | 277 | 3 | 6 |
| 28 | Deshaun Watson | Browns | 6 | 6 | 58.2 | 1,102 | 6.5 | 7 | 5 | 175 | 1 | 1 |
| 29 | Taylor Heinicke | Commanders | 7 | 9 | 62.2 | 1,859 | 7.2 | 12 | 6 | 96 | 1 | 7 |
| 30 | Matt Ryan | Colts | 15 | 12 | 67.0 | 3,057 | 6.6 | 14 | 13 | 70 | 1 | 15 |
| 31 | Davis Mills | Texans | 2 | 15 | 61.0 | 3,118 | 6.5 | 17 | 15 | 108 | 2 | 8 |
| 32 | Zach Wilson | Jets | 2 | 9 | 54.5 | 1,688 | 7.0 | 6 | 7 | 102 | 1 | 1 |